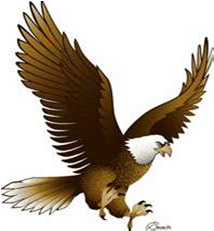 AVID Family Survey
Click Here For Individual Survey.
North Middle High School currently implements Advancement Via Individual Determination (AVID) program in sixth through tenth grades. As we prepare for the 2019-2020 school year, we would like to gather data from our families of AVID students. Please take a few moments to complete the survey below to help us plan for the upcoming school year. Thank you for your support.
---
Rowe Signs With Piedmont International University
On Thursday, May 30, 2019, Irvin Rowe signed national letters of intent to play both men's basketball and men's track at Piedmont International University in Winston-Salem, North Carolina.
---
Heading to Harvard
Amanda Whitehead, junior at NMHS, has been accepted into a week-long program at Harvard University, one of the most prestigious schools in the country.
---
Student Summer Camps
Eighth & Ninth Grade Engineering Camp
---
Math Fest Competition
The district's annual MathFest was held onSaturday, May 4, 2019, at Orangeburg-Wilkinson High School. Molly Robinson placed first in the sixth grade individual competition and Dalton Travelstead placed second in the seventh grade competition. The seventh grade team won first place in the team competition. The team members are Dalton Travelstead, Eliza Harley, Matthew Hughes, TayShaurn Jackson, and Carlos Chavez. The team coach is Mrs. Carter, 6th and 7th grade math teacher. Congratulations!!
---
2019 NMHS Graduation Decorum and Dress Code
---
AVID Scholars Tour Air National Guard Base
Thursday, March 28, 2019, was celebrated as NMHS's AVID Fun-day Friday. 32 AVID scholars, grades 6 - 9, spent the day in the life of an Air National Guardsman.
Hosted by Airman Cockfield, the students and chaperones learned the history of McEntire Joint National Guard Base, toured the Hangar, met and engaged with a full-time fighter pilot ("VADAR"), were able to experience a flight simulation, were given an up close and personal look inside the cockpit of active F-16 fighter jets, learn about rescue and survival, as well as to practice fighting fires with Fire and Rescue. We were able to put on night goggles and participate in a mission using infrared lighting. Students tried on flight gear of actual pilots. Overall, this was a learning experience unlike any other.
A four-hour tour filled with demonstrations and an abundance of information, and that was only one-half of McEntire's National Guard base. We are looking forward to returning to McEntire to tour the Army side. Thank you to all of the wonderful Airmen and Airwomen who we met during our tour. The role that you play in keeping our country and our state safe will forever be respected and honored. Thank you for your service!
---
Please congratulate the following students who participated in the Claflin Honor Band Clinic:
Carolina

Santos Agudo

- 3rd chair Flute Senior Band

Jayla Young - 1st chair Clarinet Senior Band

Eddie Emmanuel Perry - 1st chair Trumpet Senior Band

NicKollas

Infinger - 2nd chair Trumpet

Senior Band

Eddie Evans Perry - 1st chair Tenor Sax Junior Band

Morgan Swett - 3rd chair Baritone Senior Band

Davion

Martin - 4th chair Baritone

Junior Band

Taylor Jamison - Percussion
Congratulations also to Damon Kearse for making 13th chair Region 4 concert band!
---
AVID Sixth graders: Soaring on Purpose!
Do you understand the Order of Operations? Are you sure? Well, the sixth grade AVID students were struggling to understand and demonstrate their mastery of the math rules. So, what did they do? During their Tuesday Tutor day, they facilitated their own student-guided tutoring sessions.
Please take a look at what our sixth grade students can do when the expectations are set, and excuses are not accepted. Thank you to Miss Deedra O. Wright, AVID Elective sixth grade teacher for always setting the bars high and exceeding the bar.
Royal Cadet Marching Band Sets the Tone
Congratulations to the North Middle/High School Royal Cadet Marching Band! On September 29, 2018, the Royal Cadets participated in the Swamp Classic, where the band placed 2nd in visual effect, 4th overall and the color guard placed 2nd in its class. On October 6, 2018, at the Palmetto Espirit de Corps Invitational, the Royal Cadets earned the 2nd highest overall music effect and placed 4th overall. The color guard was also awarded 3rd highest score in its class. The Royal Cadets received further recognition at the Garden City Classic in Orangeburg on October 13, 2018, where they received a rating of excellent and 3rd overall in Division I. The percussion was awarded the second highest music score, and the color guard earned the second highest score at the competition as well as best color guard in the 1A division. The Royal Cadets participated in the Lower State Marching Band Championship on October 20, 2018, in Hartsville and received a rating of excellent and placed 6th overall and qualified for the South Carolina Band Directors Association 1A State Marching Band Championship.
The band instructor is Ms. Deedra Wright and the color guard is instructed by Mr. Christopher Gladman.
---
Clemson University PEER/WISE Program Tour
On October 12, 2018, Destiny Hansen, Nickolas Infinger and Joseph Veliz, seniors at NMHS, toured Clemson University to explore majors in engineering, computing and applied sciences. The tour was hosted by The PEER/WISE program, which focuses on serving underrepresented high school seniors of all genders. Students had the chance to learn more about their majors of interest, scholarships and grants, as well as the coaching, counseling, and academic enrichment opportunities available to STEM students through the PEER/WISE program.
---
AVID Student Fun Day
On Friday, September 28, 2018, the AVID (Advancement Via Individual Determination) scholars participated in their first Fun Day Friday excursion. Sixty-one students, including AVID tutors and their teachers, visited and toured Inspiring Musician Productions, Inc., in Bamberg, SC. IMP, Inc. is a recording studio with two locations: Atlanta, GA., and Bamberg, SC. Our students and teachers enjoyed an informative introduction to the business of music from Dr. Yvette McDaniel of Denmark Technical College. After the business lesson, our students moved into station 1, where they met the recording engineer, Bernard Holman. Mr. Holman demonstrated how the sound board works, the importance of having a good ear, and other intricacies that are paramount to the music industry. Last, but not least, our students moved into the recording booth and learned firsthand how a recording works. They recorded their own single: "North High School, HEY!"

---
Biology Students Create Edible Cells
In order to demonstrate their understanding of the essential functions of life that takes place within cells or systems of cells, Jayla Young and Summerlyn Thompson created an edible model of a cell. The students stated that in Mr. Clark's Biology class they were focusing on standard H.B.2 and wanted to make sure their model clearly identifed the essential parts of a cell to include specialized structures within cells (including the nucleus, chromosomes, cytoskeleton, endoplasmic reticulum, ribosomes and Golgi complex). The students presented their model to the class and identified the various cell structures and their functions. The parts of the cell were represented as...Cell membrane – rice crispy treats, Cytoplasm – frosting, Nucleus – gumball, Mitochondria – circus peanuts, Ribosome – fig newtons, Vacuole – gummy bears, Lysosome – nerd ropes, Golgi Apparatus – airhead extreme, and Endoplasmic reticulum – York peppermint patty.
---